GAIN MORE ENERGY, LOSE THE BLOAT, DROP SOME POUNDS AND FEEL MORE VIBRANT WITH MY 7 DAY DETOX SUPPORT PLAN
Are you looking for something that will kick you back into a healthy lifestyle because you're:
Tired of being tired all the time; dragging yourself out of bed in the morning only to continue to drag yourself through your day (dreading that inevitable 3pm slump, that usually ends up with your hand in the cookie jar)

Sick of caving into those sugar or carb cravings that seem to rule over your life (and your waistline)?


Fed up with feeling bloated and as if your jeans shrunk 2 sizes in the last wash cycle?
In just 7 days my Detox Support Plan will help you get back on the road to feeling vibrant, energetic, less puffy and ache-free.

Do we really need to detox?
Yes we do!
It's true, we have inbuilt detoxification pathways in the body however, our world is increasingly polluted. In the last 100 years about 80,000 chemicals have been added to the "OK to use" list – many of which we are clueless to their impact on our health (remember DDT, glyphosate and triclosan?). These toxins can be found in the air we breathe, the water we drink, the food we consume, the makeup we use, the furniture we sit on and more. They accumulate in us and tax our natural detoxification systems to the max. Is it any wonder we're feeling sluggish, achy and downright crappy if we're struggling to detoxify our daily lives?
If you aren't detoxifying at a significant rate you aren't able to keep up with the bombardment of toxins that come at you on a daily basis. And if you aren't nourishing your body with the nutrients it needs to detoxify properly, you're just adding insult to injury.

Is this plan the right plan for you?
If you're looking for a kick-start to get you back into gear and on the right track, motivated to start living healthfully again then this is the plan for you. Or, if you suffer from any of these below symptoms this plan is for you:
Brain fog or memory issues

Lack of energy

Aches and pains for no apparent reason

PMS

Headaches or migraines

Sensitivity to certain smells

Feelings of sluggishness

Bloatedness

Sugar and carb cravings
This isn't the plan for you if you believe in miracles or "quick fixes". As much as this detox support plan will support your body and amp up its detoxification pathways, it's not a miracle cure-all and some people might need to follow the plan for more than 7 days in order to see bigger results (or, there might be an underlying health issue that simply needs more attention than this 7 day support plan can give).
Anyone can do 7 days!
I purposefully made this plan only 7 days because anyone can do 7 days! Of course, if you'd prefer, you can amp up your detoxification and do this plan for 14 days or even a month. But the choice is yours and 7 days is definitely a good start for anyone wanting to clear out the cobwebs and give their body the detoxification support it needs. And, once you purchase this plan you can do it again and again (I suggest you do this detox at least twice a year) whenever you feel like you need a bit of a "tune up" and refresh.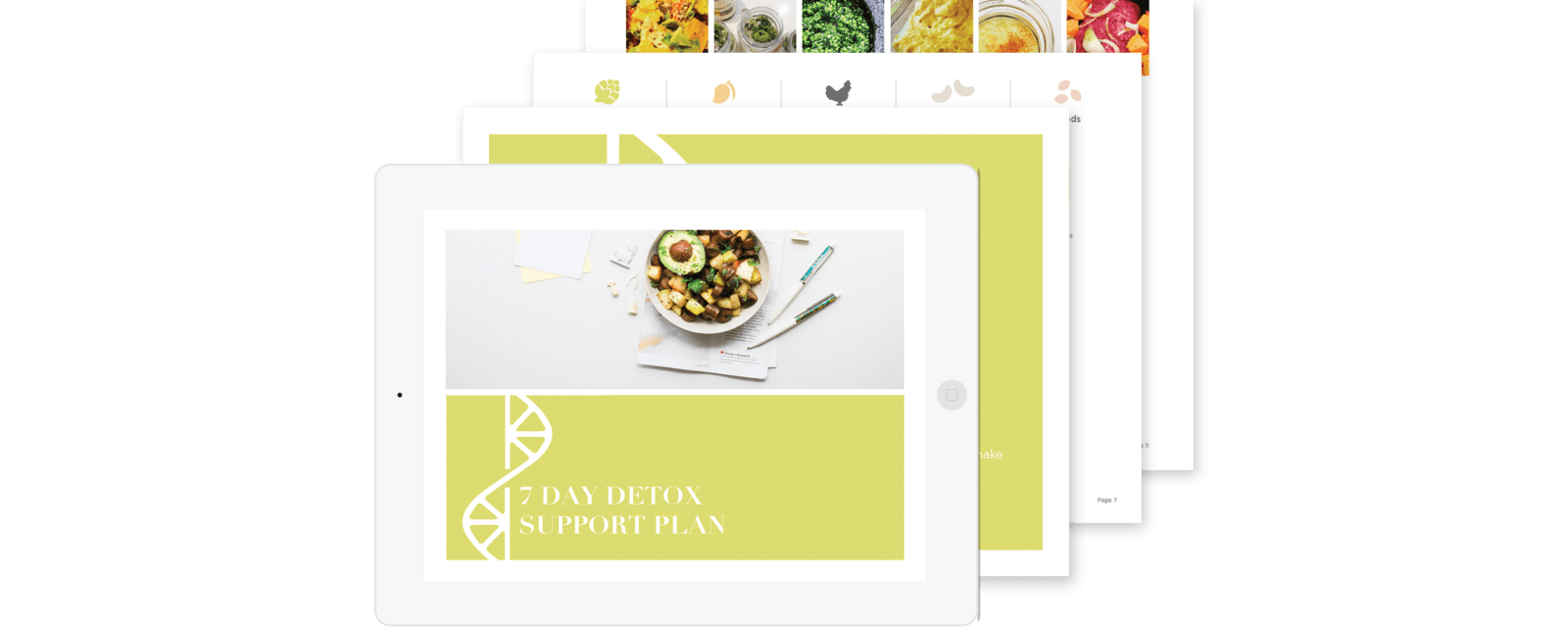 What you get in the plan:
In the plan you receive
A list of foods to eat and foods to avoid

Two meal plan suggestions for breakfast, lunch, dinner and snacks

Suggestions for recipes you can use whilst doing this detox plan

A list of supplements that will support your detoxification efforts

Tips for improving your digestion

Lifestyle recommendations (these play a big role in our detoxification efforts)
Start today to support your body and give it a fresh start for a one-time payment of just $44.95 CAD — FOR A LIMITED TIME GET 45% OFF!! JUST ENTER THE CODE DETOX45 AT CHECKOUT.
The plan will be available to you as an instant downloadable PDF after you've purchased