In this episode, I continue my conversation with special guest, Dr. Felice Gersh, diving into the various phases of the menstrual cycle and the fascinating world of cyclical hormone replacement therapy (HRT).
Here are 3 key takeaways from this episode:
1️⃣ The menstrual cycle is a highly orchestrated dance of hormones, influencing cellular health and receptor functionality. By understanding its different phases, we can better understand the impact of hormones on our overall well-being. 
2️⃣ Estrogen and progesterone play protective roles in the menstrual cycle, preventing cell damage, reducing inflammation, and even turning on tumor suppressor genes. The natural ebb and flow of these hormones is crucial for optimal health. 
3️⃣ While perpetual hormone use may have its benefits, prioritizing natural methods of managing menstrual health is preferable. Harnessing the power of our body's natural rhythm can lead to long-term balance and prevent the development of age-related diseases. 
So, grab your favorite cup of tea, and don't miss this enlightening conversation. 
Felice Gersh, M.D. has degrees from Princeton University and University of Southern California School of Medicine and is fellowship trained in Integrative Medicine from the University of Arizona School of Medicine. She is a multi-award winning physician with dual board certifications in OB-GYN and Integrative Medicine.
She is the founder and director of the
Integrative Medical Group of Irvine
, a practice that provides comprehensive health care for women by combining the best evidence-based therapies from conventional, naturopathic, and holistic medicine. She taught obstetrics and gynecology at Keck USC School of Medicine for 12 years as an Assistant Clinical Professor, where she received the highly coveted Outstanding Volunteer Clinical Faculty Award.
She now serves as an Affiliate Faculty Member at the Fellowship in Integrative Medicine, through the University of Arizona School  of Medicine, where she lectures and regularly grades the case presentations written by the Fellowship students for their final exams.
Felice Gersh, M.D. is the bestselling author of
PCOS SOS
and the
PCOS SOS Fertility Fast Track
, and Menopause: 50 Things You Need to Know. She has also had numerous scientific articles published in peer-reviewed medical journals.
She is a prolific lecturer nationally and internationally and has as well been featured in several films and documentary series, including The Real Skinny on Fat with Montel Williams and John, Fasting with Valter Longo, Ph.D., and The Business of Birth Control.
Mentioned in this episode:
Pique Tea – These are some of Tara's favourite teas! They're crystal form, which makes them super unique and easy to transport in your purse, (they come in single use satchels!) and higher in polyphenols. They're made from high quality ingredients with triple toxin screening, (super important when it comes to your tea). Click HERE to visit the shop.
Paleovalley – Grab your goodies as mentioned in this episode, HERE
---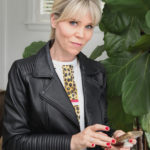 Hi, I'm Tara Thorne, FDN-P, RHN, FNC and women's health and hormone expert. After serving hundreds of women in my signature program,
The Hormone Balance Solution
, I bring to you, the HBS Podcast.
This podcast is all about educating women, and giving them actionable strategies for supporting hormonal harmony. It's my passion to empower women to take back their health and their happiness. We'll cover gut health, mineral balancing, nutrient deficiencies, cellular health, nervous system health, functional testing, and so much more. No Fluff. No BS. Just everything you need to know and nothing you don't.
Subscribe to The Hormone Balance Solution podcast on any of the following podcast platforms!
APPLE PODCASTS
SPOTIFY
GOOGLE PODCASTS
RSS FEED
Leave a Review:
Reviews are hugely important because they help new people discover this podcast. If you enjoyed listening to this episode, please leave a review on iTunes. Here's how.