Today's episode is a little different.
I wanted to take a moment and answer some of the questions I receive regularly in my inbox.
In this episode I answer:
Do I recommend seed cycling?
How is the GI MAP different from other stool tests?
I am still using a form of birth control, can I still work with you in the HBS?
What book recommendations do you have regarding minerals?
Do I need a health professional when interpreting the GI MAP or HTMA?
Does Saw Palmetto stop hair loss from BHRT with testosterone?
Will taking magnesium glycinate help me optimize my sleep?
Is it true that collagen doesn't contain all of the amino acids?
And a whole lot more!
Listen to the full episode to hear my answers to these popular questions.
Mentioned in this episode:
The Mineral Fix: How to Optimize Your Mineral Intake for Energy, Longevity, Immunity, Sleep and More by James DiNicolantonio (Author), Siim Land (Author)
Herbatonin – Save 15% when you use Tara's code: Tara15
Blue Light Blocking Glasses Recommendations:
Baxter Blue(Australian site) Save 15% when you use Tara's code: Tara15
Bon Charge Save 15% when you use Tara's code: TARA15
Make sure to register for my FREE live training that's happening Sept 12 / 13 – depending on where you're located in the world. Click HERE to save your seat.

I've never done this training before, and I will likely not run another live training at least for the rest of this year, (or longer) so now's your chance.

PLUS I'm going to be making a HUGE announcement on this training that you don't want to miss! Bring all your questions for a live Q&A with me at the end too. See you there!

Register for my FREE Women's Masterclass: How to kick fatigue, weight gain, raging moods and insomnia in your 40s, so you can find that lost libido, self-esteem and confidence… without having to give up multiple foods, coffee, or resort to medications. REGISTER HERE
---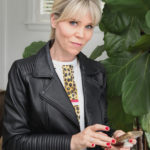 Hi, I'm Tara Thorne, FDN-P, RHN, FNC and women's health and hormone expert. After serving hundreds of women in my signature program,
The Hormone Balance Solution
, I bring to you, the HBS Podcast.
This podcast is all about educating women, and giving them actionable strategies for supporting hormonal harmony. It's my passion to empower women to take back their health and their happiness. We'll cover gut health, mineral balancing, nutrient deficiencies, cellular health, nervous system health, functional testing, and so much more. No Fluff. No BS. Just everything you need to know and nothing you don't.
Subscribe to The Hormone Balance Solution podcast on any of the following podcast platforms!
APPLE PODCASTS
SPOTIFY
STITCHER
GOOGLE PODCASTS
RSS FEED
Leave a Review:
Reviews are hugely important because they help new people discover this podcast. If you enjoyed listening to this episode, please leave a review on iTunes. Here's how.