I had the pleasure of interviewing my very own doctor, the incredible Dr. Jasmina Dedic-Hagan on this episode of The Hormone Balance Solution podcast!
We covered a wide range of topics related to hormonal health, sleep, bone health, and the role of hormone replacement therapy (HRT).
It was an eye-opening conversation that provided some valuable insights on what happens to us through perimenpause and our menopausal journey.
Here are a few of the things she shed light on:
1️⃣ Prioritize Sleep:
Lack of sleep can have a significant impact on hormone balance and overall health. Develop a sleep routine, practice good sleep hygiene, and consider natural supplements like melatonin to support healthy sleep patterns.
2️⃣ Understand Perimenopause:
Perimenopause is a transitional phase that occurs before menopause, characterized by hormone fluctuations and changes. It's crucial to educate ourselves about its effects on our bodies and seek help when needed. Our understanding and support during this stage can make a world of difference.
3️⃣ Focus on Metabolism, Not Just Weight:
Instead of fixating on the number on the scale, shift your focus to metabolic health. Prioritize a balanced diet, exercise regularly, and monitor blood sugar levels. Managing hormones like cortisol, insulin, and estrogen is key to achieving hormonal balance and maintaining a healthy weight.
To dive deeper into these topics and gain more valuable insights from Dr. Jasmina, listen to the full episode on The Hormone Balance Solution podcast.
And if you're looking for personalized guidance and support, don't hesitate to reach out to Dr. Jasmina through the Linden Health website for telehealth consultations.
Here's to taking charge of our hormone balance journey and empowering ourselves with knowledge, holistic approaches, and supportive strategies!
#HormoneBalance #SleepHealth #BoneHealth #HormoneReplacementTherapy #WellnessJourney #PodcastInterview #HolisticHealth
ABOUT Dr. Jasmina Dedic-Hagan
Jasmina is a medical doctor with particular interest in Functional Medicine, a science- based approach that seeks to understand the root cause of illness. She focuses on the biochemically unique aspects of each patient and then tailors individual interventions to restore health. In addition to her specialty training, Jasmina is certified with the prestigious Institute of Functional Medicine in the US and is board certified in Lifestyle Medicine.
Prior to becoming a doctor, Jasmina completed a PhD in Molecular Biology, publishing her work on the genetics of cardiovascular disease and the regulation of gene expression. She is now applying her knowledge of genetics and biochemistry to her areas of interest which include gut health, autoimmune disease, endometriosis, PCOS, fertility, perimenopause / menopause, metabolic issues, cardiovascular disease and sports nutrition. This experience is rare amongst doctors but is important given the increasing relevance of personalised genetic testing in the understanding of chronic disease.
Jasmina believes that patient education and empowerment are critical to long-term health. Her extensive teaching experience allows her to translate complex science into a language that patients understand and can engage with.
Find her through LINDEN HEALTH here.
---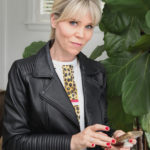 Hi, I'm Tara Thorne, FDN-P, RHN, FNC and women's health and hormone expert. After serving hundreds of women in my signature program, The Hormone Balance Solution, I bring to you, the HBS Podcast.
This podcast is all about educating women, and giving them actionable strategies for supporting hormonal harmony. It's my passion to empower women to take back their health and their happiness. We'll cover gut health, mineral balancing, nutrient deficiencies, cellular health, nervous system health, functional testing, and so much more. No Fluff. No BS. Just everything you need to know and nothing you don't.
Subscribe to The Hormone Balance Solution podcast on any of the following podcast platforms!
APPLE PODCASTS
SPOTIFY
STITCHER
GOOGLE PODCASTS
RSS FEED
Leave a Review:
Reviews are hugely important because they help new people discover this podcast. If you enjoyed listening to this episode, please leave a review on iTunes. Here's how.