On this episode I spoke with Jo Lia from No Tox Rox and we spoke all about mold.
Mold toxicity is a big problem, and I've seen many a client suffering with their hormonal health only to find out it was mold driving their symptoms.
But how do you know what to look out for?
How do you know when mold is an issue?
What's the best way to test?
We get into these questions and more on this episode.
Jo is a building biologist, a certified EMR consultant and a IICRC trained water damage restoration technician specializing in creating healthy homes where families can thrive.
With over a decade of experience in the field, Jo has assessed hundreds of homes, work-places and schools.
Much of her work is focused on remedying mold and EMF exposures but her true passion lies in prevention. She loves nothing more than arming people with the tools and knowledge to create their own healthy homes by understanding what the environmental challenges are and changing the things they can control.
Jo has appeared in several health publications, on wellness podcasts and on Channel Ten's 'Healthy Homes' program.
You can find Jo here: https://www.notoxrox.com
On Instagram @notoxrox
Jo also provided these resources for our listeners:
https://www.vcstest.com/ – Free visual contrast sensitivity test to assess your likelihood of having biotoxin illness.
www.staraniseorganic.com/essential-oils (email any questions to info@staraniseorganic.com) for thieves and non toxic cleaning products
Thank you for joining me. If you enjoyed this episode I would be deeply grateful if you'd leave me a 5 star review, hit subscribe, & share this podcast with any friends or family you think would benefit. It's so important we share this information far & wide to help as many women as we can.
Please feel free to tag me & connect with me on these social platforms:
Instagram
Tik Tok
Facebook Group
If you're interested in finding out more about my 6 month women's hormone health restoring program, The Hormone Balance Solution, please click HERE.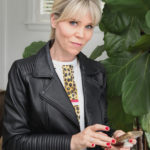 Hi, I'm Tara Thorne, FDN-P, RHN, FNC and women's health and hormone expert. After serving hundreds of women in my signature program, The Hormone Balance Solution, I bring to you, the HBS Podcast.
This podcast is all about educating women, and giving them actionable strategies for supporting hormonal harmony. It's my passion to empower women to take back their health and their happiness. We'll cover gut health, mineral balancing, nutrient deficiencies, cellular health, nervous system health, functional testing, and so much more. No Fluff. No BS. Just everything you need to know and nothing you don't.
Subscribe to The Hormone Balance Solution podcast on any of the following podcast platforms!
APPLE PODCASTS
SPOTIFY
STITCHER
GOOGLE PODCASTS
RSS FEED
Leave a Review:
Reviews are hugely important because they help new people discover this podcast. If you enjoyed listening to this episode, please leave a review on iTunes. Here's how.