This is Part 2 of my interview all about perimenopause, menopause, and BHRT with Jill Chmielewski, RN, BSN 
Jill is a Registered Nurse, Certified Health Coach, advocate for aging women, and mom of four who is on a mission to change the way we approach menopause and aging. She helps midlife women break free from the mainstream way of thinking where disease and decline are accepted as an inevitable part of aging ~  and embrace the notion that it's absolutely possible to feel vibrant, happy, healthy, balanced, and strong through midlife and beyond.
We spoke about how to tell if you're in peri-menopause, symptoms to look out for, about testing hormones when in your peri-menopause years; should you even bother? What's the best type of testing? We spoke about why hormones are so incredibly important to preserve as we age, about what some of the dangers of low hormones are – especially when we hit menopause and beyond. Jill also dispelled the myths around the fears of hormone replacement therapy and also explained what forms and types of hormones are best – plus so much more! 
Please enjoy Part 2 of Peri-menopause, menopause, and BHRT with Jill Chmielewski and go back and listen to Part 1 if you haven't done that yet. 
Jill is such a beautiful soul and I feel honoured to be learning from her inside her community: Pausing Together. This is a place for women to connect, learn, and open up discussions on topics that affect "PAUSAL" women (available on Apple and Google).
You can also find Jill on Instagram where she's: @jill.chmielewski and via her website: https://www.jillchmielewski.com/
---
REGISTER HERE for my upcoming Hormone Balance Training: The most effective way to end the hormonal imbalance rollercoaster without birth control, starving yourself, or wasting money on testing and supplements you don't need.
---
Thank you for joining me. If you enjoyed this episode I would be deeply grateful if you'd leave me a 5 star review, hit subscribe, & share this podcast with any friends or family you think would benefit. It's so important we share this information far & wide to help as many women as we can. And I'm running a giveaway! If you leave this podcast a 5 star review and take a screenshot and send to me on Instagram, (I'm @TaraThorneHealth) we'll give you my 6 week Happy Hormones course – for free!
Please feel free to tag me & connect with me on these social platforms:
Instagram
Tik Tok
Facebook Group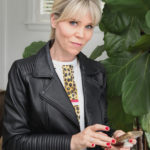 Hi, I'm Tara Thorne, FDN-P, RHN, FNC and women's health and hormone expert. After serving hundreds of women in my signature program, The Hormone Balance Solution, I bring to you, the HBS Podcast.
This podcast is all about educating women, and giving them actionable strategies for supporting hormonal harmony. It's my passion to empower women to take back their health and their happiness. We'll cover gut health, mineral balancing, nutrient deficiencies, cellular health, nervous system health, functional testing, and so much more. No Fluff. No BS. Just everything you need to know and nothing you don't.
Subscribe to The Hormone Balance Solution podcast on any of the following podcast platforms!
APPLE PODCASTS
SPOTIFY
STITCHER
GOOGLE PODCASTS
RSS FEED
Leave a Review:
Reviews are hugely important because they help new people discover this podcast. If you enjoyed listening to this episode, please leave a review on iTunes. Here's how.