In this episode, I dispel a few common myths around estrogen and menopause. I delve into the dangers of low estrogen levels and debunk the notion that perimenopause is solely characterized by estrogen dominance. I also touch on how taking the 'natural' approach to this midlife transition may do more harm than good!
The term estrogen dominance has been widely used in the past, but it may not accurately describe the hormonal imbalance experienced during perimenopause. In fact, estrogen tends to be erratic – up, down and all over the place. Instead, we need to recognize the potential dangers of low estrogen levels, and consider hormone replacement as a key strategy at this time in our life.
While low estrogen levels in peri-menopause can lead to various symptoms, including hot flashes, mood swings, vaginal dryness, and decreased bone density, it's far more concerning of what diseases it can lead to later in life.
I know that the concept of going through menopause naturally seems like a lovely idea but not bringing hormone replacement on board is unhealthy and could potentially be harmful in a lot of ways.
Estrogen is vitally important for more than 400 different functions in the body and with low levels we set ourselves up for a much higher chance of dementia, cardiovascular disease, osteoporosis, and the list goes on.
Join me for this episode, and help me dispel some of the myths of estrogen.
And if you're interested in diving deeper into the hormone balance solution, be sure to check out the video mentioned in the podcast – HERE!
Mentioned in this episode:
ZINZINO – If you're interested in trying out the ZINZINO fish oil I recommend in this episode, please email me. Make sure you tell me which country you live in when you email me so I can send you the right information: tara@tarathornenutrition.com
Paleovalley – Grab your goodies as mentioned in this episode, HERE
MACA femmenecessen – Use the code Tara15 for 15% off.
---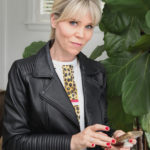 Hi, I'm Tara Thorne, FDN-P, RHN, FNC and women's health and hormone expert. After serving hundreds of women in my signature program,
The Hormone Balance Solution
, I bring to you, the HBS Podcast.
This podcast is all about educating women, and giving them actionable strategies for supporting hormonal harmony. It's my passion to empower women to take back their health and their happiness. We'll cover gut health, mineral balancing, nutrient deficiencies, cellular health, nervous system health, functional testing, and so much more. No Fluff. No BS. Just everything you need to know and nothing you don't.
Subscribe to The Hormone Balance Solution podcast on any of the following podcast platforms!
APPLE PODCASTS
SPOTIFY
GOOGLE PODCASTS
RSS FEED
Leave a Review:
Reviews are hugely important because they help new people discover this podcast. If you enjoyed listening to this episode, please leave a review on iTunes. Here's how.